Active time out on the Lycian coast
Protected by the mountains behind and only 1500 meters from the sea you will find Lycian flair in rural surroundings. Bathing is possible here from April to December at pleasant temperatures. Hiking on the "Lycian Way", swimming at the beautiful bays, yoga, meditation, a varied range of seminars and numerous opportunities to meet – these are your ingredients for the perfect distance from everyday life!
The LYKIA is located 3 km from the small village of Adrasan and 10 km from Olympos. The landscape here is characterized by pine forests, oleander, orange and pomegranate trees.
The beautiful pebble/sand beach is in ca. 20-25 minutes easy to reach (daily beach transfer also available). On the beach there are also cafes, restaurants, a small supermarket, deck chairs/umbrellas and a diving school. In the eastern part of the bay there are cozy river restaurants with kösks.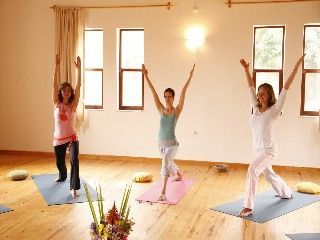 ACTIVE-HOLIDAY-WEEK: 23 HOURS OPEN PROGRAM "ACTIVE & MEDITATIVE"
Yoga & Meditation – 10 hours of yoga per week (5 x 2 hours incl. relaxation session), 5 x 30 min. Meditation, e.B. Body, breath, mantra, walking or movement meditation.
Country & People – Trip to Olympos with sightseeing of the ancient city, ca. 3 hour hike (sturdy footwear!), Way and theme according to season, Traditional, Turkish gözleme food.
Evening program – Meditative, z.B. Fantasy journey, Yoga Nidra or Tratak (1x weekly), singing or dancing (1x weekly), 1x grill evening with fish, meat and Turkish vegetarian specialities.
YOGA- & WALKING WEEK (extra charge)
Dates: 19.04. – 26.04.2015 and 08.11. – 15.11.2015 (In these weeks there is no "Active Time Out" taking place!)